Volkovysk meat-packing plant - the winner of the competition "Champion of taste-2017"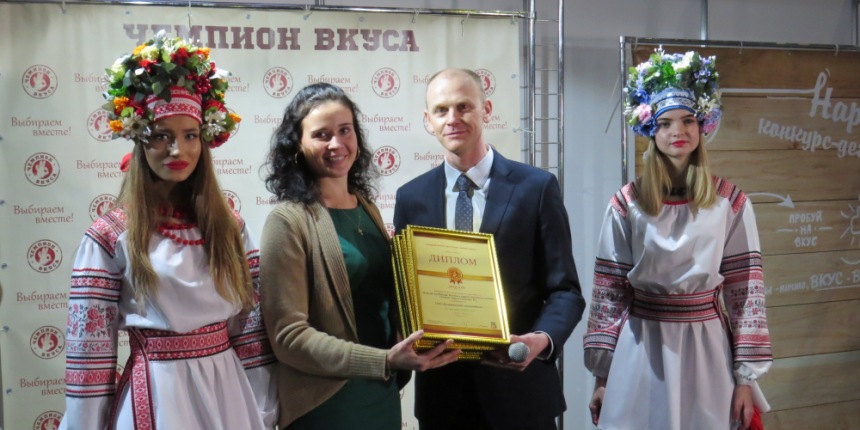 On November 17, in the Football arena within the framework of the exhibition "Prodexpo 2017", the ceremony of awarding winners and participants of the autumn season of the "Champion taste-2017" contest was held.
Recognition among colleagues, experts and people's tasters is not only a pride in the excellent work of the enterprise team, not only recognition of the exact hit in consumer preferences, but also the identification of the highest level and priorities for the development of the Belarusian meat, dairy and bakery industries.
PRODUCTION JSC "VOLKOVYSKIY MEAT PROCESSING PLANT" IS PROVIDED WITH THE 5 DIPLOMAS OF THE COMPETITION "CHAMPION OF TASTE-2017": sausage boiled and smoked meat salami "Barbados in Volkovyssky" of the highest grade, sausage boiled-smoked meat salami "Servelat Volkovyskiy Grand", premium grade, sausage cooked - smoked meat salami Prestige top class, sausage boiled-smoked meat salami Augustov, frozen meat pelmeni "Amateur original Volkovyssky".
The results of the competition show how strong the competition is in the nomination, what products find response from buyers, what innovations have won loyalty and good demand. It is very important to keep an eye on the pulse and lay your course between fashion for tastes, quality and standards requirements, marketing policy and classic recipes of the basic assortment.
It should be noted that among the 33 nominations in the competition, 5 products received the Grand Prix of the national contest-tasting "Champion of Taste". This is 100 points out of 100 possible!
Grand Prix was awarded a sausage boiled and smoked meat salami Augustowa produced by JSC Volkovysk meat-packing plant, and experts and people's tasters gave the highest score to the taste and quality of the product.
As the competition shows, high-quality raw materials, natural ingredients, excellent work of technologists and compliance with production processes, as well as a sincere attitude to their work and their product - these are the components of success!