UNITARY ENTERPRISE "VMK-AGRO"
General information on the enterprise
Kolkhoz Michurin Svisloch district organized in 1949, and the attached farm "Red Dawn" in 1976. In 2003, farm them. Michurina renamed in SEC "Nezbodichi". By joining the SEC "Nezbodichi" to the JSC "Volkovysk Meat-Processing Plant" organized by branch "Nezbodichi" "Volkovysk Meat-Processing Plant".
December 1, 2011 the branch "Nezbodichi" "Volkovysk Meat-Processing Plant" was reorganized through merger of OAO "Grinko" (Order "Volkovysk Meat-Processing Plant" from 30.11.2011. number 932 "On joining of" Grinko "to affiliate" Nezbodichi ").
On the territory of the branch is 20 settlements, where 1,234 people live.
On the territory of the branch is 1 basic school, one middle school, nursery school, 1 kindergarten, 2 shops, 4 obstetric stations, 2 houses of culture, 2 complex collection point for consumer services, 2 library, recreation center in the village. Runoff, 2 public baths.
On the farm begins Bialowieza Forest, in the same area economy is bordered by the Republic of Poland.
Agricultural branch is a separate structural subdivision of JSC "Volkovysk Meat-Processing Plant". A legal person is not.
For branch enshrined 6252 hectares of farmland, of which 5055 hectares of arable land.
Cadastral valuation with / agricultural land is 32.5 points, arable land - 34.3 points.
The branch works 259 people.
Main activities
The company specializes in the production of milk, meat, grain and oilseed rape.
In crop growing cereals for grain: winter wheat, winter rye, winter triticale, spring barley, oats, buckwheat, maize, millet, pea, pelyushka. Industrial crops: winter rape, potatoes. Forage crops: corn for silage and green fodder, annual grasses for green fodder. Perennial grasses: hay, seeds, the green mass on grazing. Pozhnevnye (repeated), intermediate crops: the green mass on grazing. Meadow grasses: hay, the green weight, on grazing.
Crop Production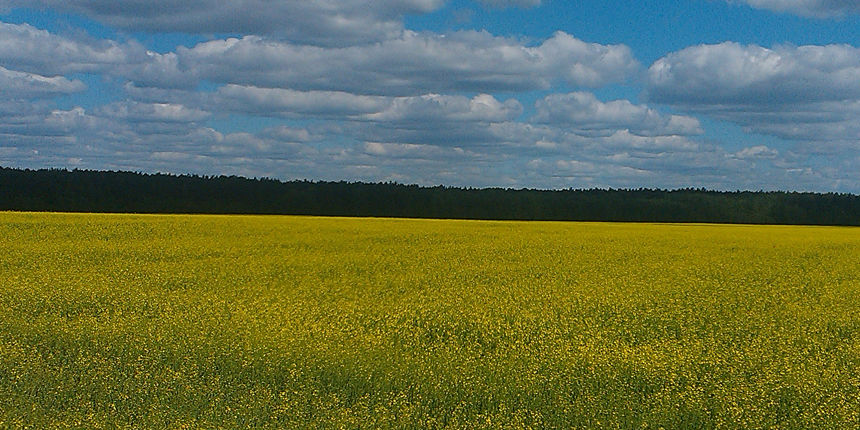 Grain crops are implemented on the basis of the State contract for the supply of grain for the state needs is strictly in the range, according to the established order of the government. Passed some other crops is not allowed offset supply feed grains instead of food is not allowed. Supply of grain produced on the dates specified in the contract. The rest of the grain grown is used for seeds, for fodder, for sale to the public.
Rape available for state needs, for industrial processing.
Potatoes grown for sale in the food purposes, custom processing into starch.
Forage crops are grown for cattle fodder in the summer and hay, haylage, silage on the winter-stall period.
Livestock Products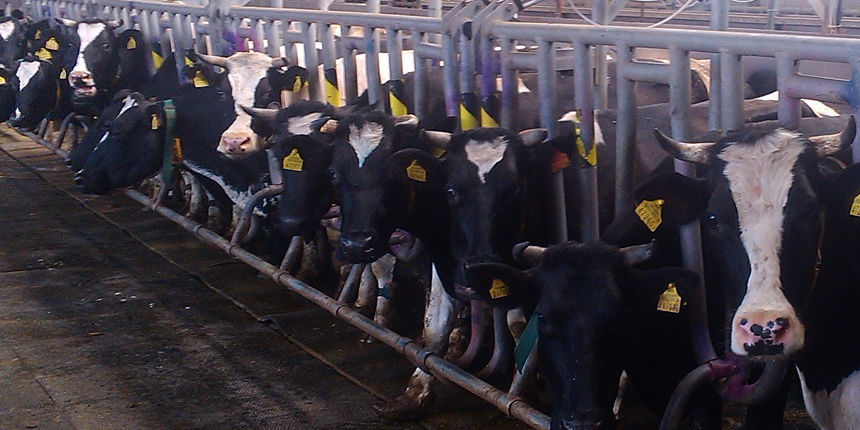 Молоко производится для реализации и для дальнейшей переработки, а также выпойки телятам молочного периода. Крупно рогатый скот – для реализации на мясо.
The number of cattle on 01.05.2016g. It made 3796 heads, including cows - 1250 goals.
The enterprise has three dairy farms (including ITC "Drechany", where in 2012 was reconstructed) and 3 farms for rearing and fattening cattle.
The plant has two production sites, "Nezbodichi" and "French toast".
Key Performance Indicators
During 2014 it produced a gross output of agriculture in the amount of 57,616,500,000. Rubles, or 115% compared to the same period of 2013. Including the gross output of livestock amounted to 114.3%, crop production - 115.8%.
The yield of grain and leguminous plants totaled 39.1 c / ha in 2014. The yield of potatoes - 273 centners / ha, yield of rape - 25.5 c / ha, the yield of sugar beet - 409 kg / ha, maize yields in the green mass - 186 kg / ha.
During 2014 it produced 5714 tons of milk (2013 - 5036 tonnes), yield per 1 cow - 4625 kg (2013 - 4124 kg). Marketability of milk is 91%. Grade "extra" milk sold 11.2% (2013 - 12.3%), the highest grade of milk sold 82.8% (2013 - 61.5%). Average daily gain of cattle - 794 gr. (2013 - 755 gr.).
Implemented cattle for slaughter - 613 m (2013 - 583 n).
Much work has been done to strengthen the food base. It puts the original goal - to provide cattle feed. For fodder harvested hay - 526 tonnes of silage - 9974 tonnes of silage - 15813 tonnes for the full need has its own production concentrates and feed.
Employees of the branch provided significant benefits for ancillary services, namely landing acres, issue of hay, straw, tractor services for plowing gardens, grain issuance at low prices. Also, there are numerous awards and financial assistance in connection with holidays (New Year's Day / s employee Dozhinki etc.).
Branch employees to actively participate in sports activities area, so on the track Śvisłač 2016 team won 2nd place in the competition and fire brigades in 2016 won honorable 1st place.
Contact Information