GRAND PRIX FOR STABLE QUALITY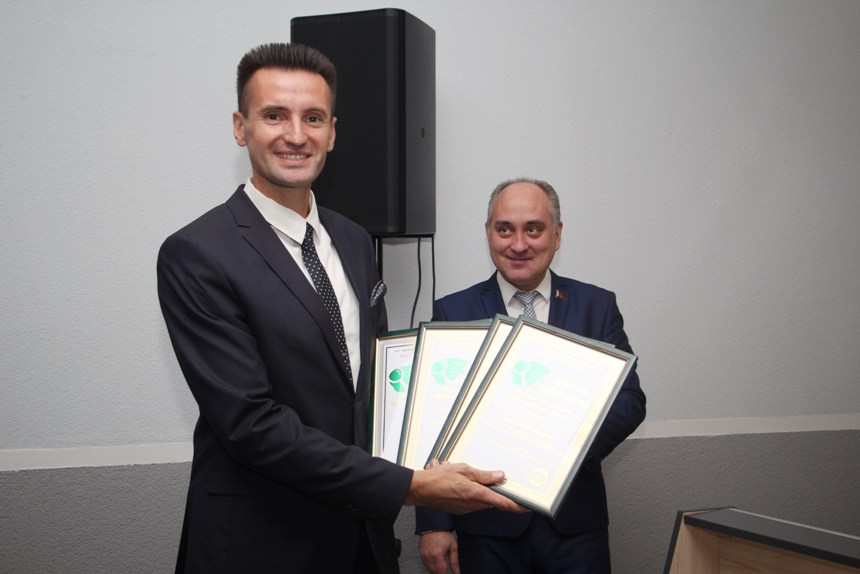 On November 11, 2020, at the National Exhibition Center "Belexpo" in Minsk, a solemn ceremony of awarding the winners of the public competition "Best Products of the Year - 2020" was held.
Volkovysk Meat Processing Plant OJSC was awarded the GRAND PRIX "For Stable Quality" !, as well as four Winner Diplomas for the premium quality Royal Special Sausage, the smoked Babushkino Ugoshchenie sausage, Pelmenych Pelmeni, boiled sausage "Doctor's GOST".
The members of the jury of the competition, headed by the Chairman of the Belarusian Society for the Protection of Consumers, were specialists from the Belgospischeprom concern, RUE Scientific and Practical Center of the National Academy of Sciences of Belarus for Food, representatives of the main department of the consumer market of the Minsk City Executive Committee, specialists of the food hygiene department of the Republican Center for health, leading specialists of RUE "Institute of the meat and dairy industry".
At the tasting were presented not only the long-loved products, but also new items that deserve the closest attention of the consumer, produced strictly according to GOST!
During the tasting, anonymity is respected, product samples are encrypted, so the experts do not know the manufacturer. And according to the results of the competition, the best foods are those with the highest number of points.
We thank all consumers for their love for our products and their appreciation! For us, this is really the best rating of its kind!