Prodekspo-2019 in Moscow
JSC Volkovyssky Meat-processing Plant participated in the 26th international exhibition of Prodekspo-2019 food in Moscow (Russian Federation) from 11:02. for 15.02.2019, having issued the stand in the corporate style of the enterprise in the pavilion of producers of meat products.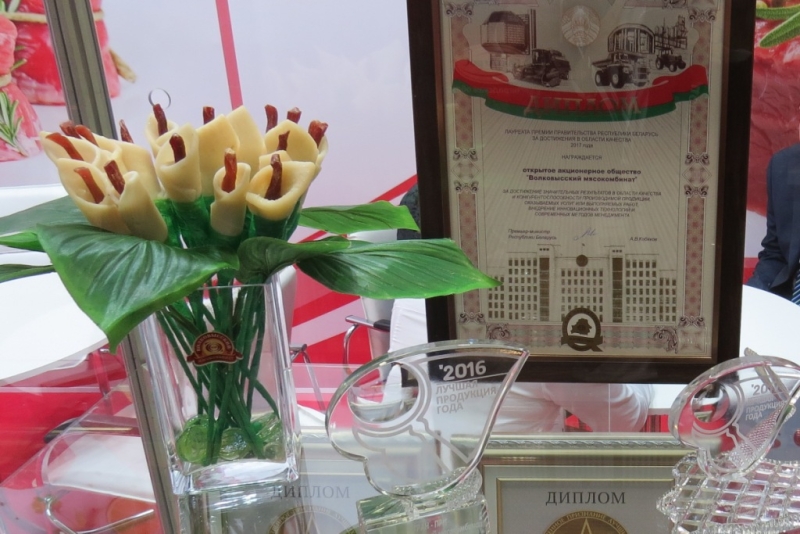 Presented the wide range of the made products at an exhibition of JSC Volkovyssky Meat-processing Plant: boiled sausages, sausages, cooked smoked and half-smoked sausages, the smoked and boiled and smoked baked smoked products from beef and pork. The staff of the enterprise carried out tasting of meat products of the enterprise during which respondents noted high quality and flavoring rates of products.
The enterprises from Russia, Belarus, Serbia, China, Armenia, Italy, Spain, Uruguay, Holland, Brazil and others were presented at this exhibition.
At the Prodekspo 2019 exhibition negotiations with producers of meat products, the wholesale companies traders on supply of meat beef in half carcasses, blocks and junctures were held; fats melted premium; offal and semi-finished products and also finished goods. Big interest was shown by representatives of the companies from China, Vietnam to semi-finished products, an offal and endocrine fermental raw materials.