We invite you to the new brand shop "Pachastunak z Vaukavyska"!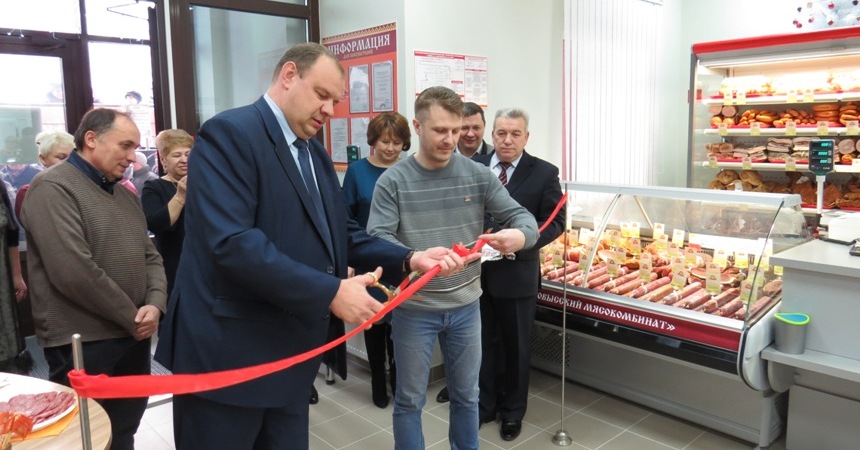 "Vaukavysk is there?" - this question is often heard in the sausage and meat departments of large stores. The manufacturer from Volkovysk has long been known on the market in Belarus. The secrets of success here do not hide: the rate is made, first of all, on the quality of products and its safety. To ensure this allows a careful approach to the selection of raw materials and strict adherence to technology and standards at all stages of production.

On December 15, a new brand store "Pachastunak v Vaukavyska" was opened in Minsk. This is the 14th store of the Volkovysk meat-packing plant in the country. The opening on Dzerzhinsky Avenue, 22 was traditional, with a symbolic red ribbon at the entrance, which the general director of the enterprise Vladimir Belyaev cut.
Now residents of Minsk Hrushevka and surrounding areas will not have to look for sausages, smoked products and semi-finished products of Volkovysk meat-packing plant among meat products of other producers in the capital's hypermarkets. The new store is conveniently located near the metro station "Grushevka". Nearby - extensive free parking.
From the food variety in the bright spacious hall of the store, eyes are running wide. Here, even the most choosy buyer will find a treat to his liking, because "Pachastunak z Vaukavyska" daily replenishes its counter with fresh portions of delicacies. And if there are difficulties, make an ideal choice will help polite disposing of sellers. Pleasantly surprise buyers and prices.
The trade mark "Volkovysk meat-packing plant" does not need additional presentation. The company has been on the market for more than half a century, the combination of traditional Belarusian recipes with advanced technologies, strict compliance with quality standards and create that unique taste of Vaukavysk products, accurately reflected in the slogan of the enterprise - "Tasty at all times!"
Come and see for yourself. "Pachastunak z Vaukavyska", Dzerzhinsky Avenue 22, metro station "Grushevka". We are waiting for you every day from 9 to 20 hours (Sunday is a day off). There is everything to make purchases with pleasure.
If you live far from Hrushevka, three more shops of the Volkovysk meat-packing plant are operating in Minsk: on Mayakovskogo Str. 176 (the first floor of the KamVol plant), Esenina Street 17 and Myasnikova Street 17 (not far from the Trade House "Na Nemige").
Firm stores of JSC "Volkovysk meat-packing plant" in other cities:
Baranovichi - st. Minin-Pozharsky 13;
Volkovysk - ul. October, 151, st. Zholudeva, 49 A;
Gomel - st. International, 35
Grodno - st. Nikolaeva, 62, ul. October, 3;
g. Zelva - ul. Kirov, 6;
Bridges - st. The Soviet, 42;
Slutsk - st. M. Bogdanovich, 3
Shchuchin - st. Ostrovsky, 1