OJSC "Volkovysk Meat Processing Plant" at the exhibition "Made in Belarus" in Kazakhstan!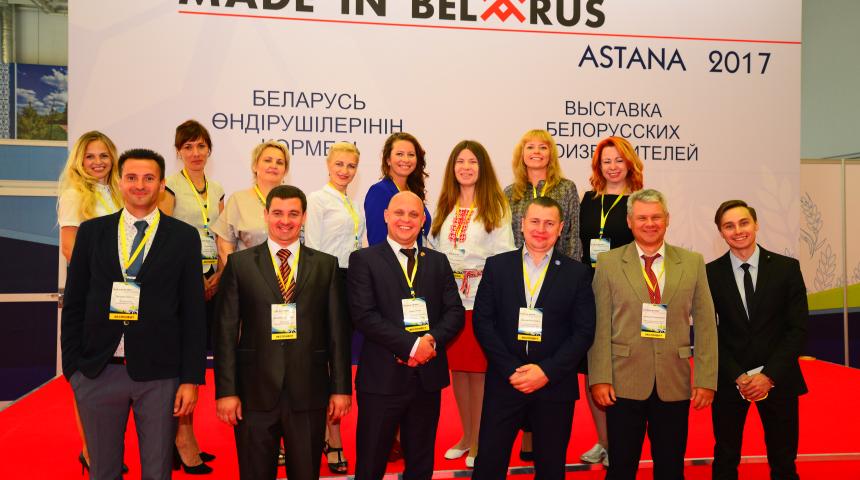 August 13 in the exhibition center "Korme" (Astana) solemn opening of the exhibition of domestic producers "MADE IN BELARUS" took place.
The organizer of the collective exposition of OJSC "Management Company of Holding Grodnoyasomolprom" within the exhibition was the exhibition unitary enterprise "Belinterexpo" of the Belarusian Chamber of Commerce and Industry. The exhibition was held with the support of the Embassy of the Republic of Belarus in Kazakhstan. More than 50 Belarusian manufacturers presented their products at the stands, among the enterprises of the meat processing industry participated: JSC Volkovysk Meat Processing Plant, JSC Grodno Meat Processing Plant, OJSC Slonim Meat Packing Plant, OJSC Oshmyansky Meat Packing Plant and others.
The stands of Belarusian manufacturers were visited by Prime Minister Andrei Kobyakov together with Kazakhstan's premier Bakytjan Sagintayev. The stand of JSC "Volkovysk meat-packing plant" was presented as a part of the collective exposition of OJSC "Management Company of Holding Grodnoyasomolprom".
At the exhibition JSC "Volkovysk meat-packing plant" presented a wide range of products: boiled-smoked, smoked and raw sausages; Smoked-boiled, smoked and smoked smoked products made of beef and pork; Salty products from bacon. The specialists of the enterprise conducted tasting of meat products, during which respondents noted high quality and taste indices of the products.
During the exhibition, price lists, catalogs, booklets and souvenirs were distributed. Negotiations on delivery of pelmeni, sausages and beef meat were held with large Kazakhstani importing companies.
For reference:
Kazakhstan is one of the main partners of Belarus in foreign trade, including within the framework of the EAEC. In terms of the volume of trade for us, this country is in third place in the CIS after Russia and Ukraine. In 2016 foreign trade turnover of Belarus and Kazakhstan amounted to 419.1 million US dollars, export of Belarusian goods - 363.7 million US dollars, foreign trade balance - plus 308.3 million US dollars.